Sun Nov 23, 2014

@13:00

-
Raleigh Cranksgiving 2014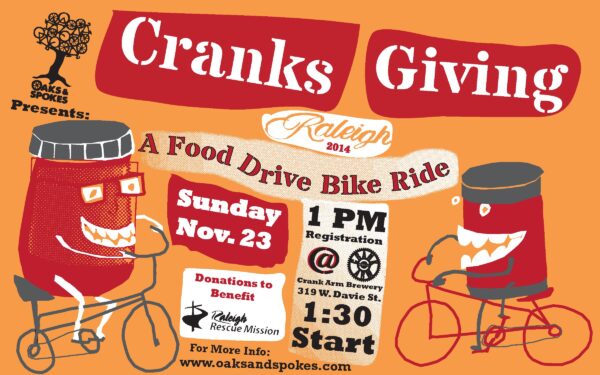 Cranksgiving is a mobile food drive on two wheels (or three if you have a tricycle!) where riders collect food and donations from local stores by bike. Cranksgiving is a national concept that started in New York in 1999 and has spread to countless other cities since.
It is a fun way to bike your city, build community and help provide for the needy during the holiday. All ages and skill levels are welcome: racers, leisure riders, kids and families. Hoping to see many new and familiar faces!
Here are the details for the Raleigh Cranksgiving 2014:
When: Sunday, November 23rd, Registration at 1 p.m., Ride starts at 1:30 p.m.
Where: Crank Arm Brewing Company, 319 W Davie St.
What to bring: A bike, A bag (backpack, messenger bag, pannier, etc.), $15-$20 to buy food, A lock (to secure your bike when shopping), A friend (or two, or three) if you can
There is no registration fee, just be ready to purchase your donation items. Riders will be given a list of items to buy and stores/checkpoints to visit at the start.
All the food and goods collected at this event will be donated to the Raleigh Rescue Mission, a faith-based non-profit agency providing homeless men, women, children and families with food, shelter, safety and educational and vocational training located in downtown Raleigh.